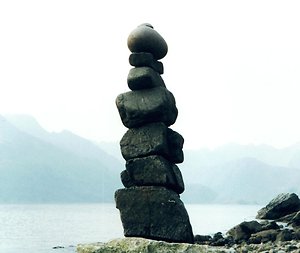 What is Mindfulness?
Mindfulness is an ancient Buddhist practice and a way of being. It is growing in popularity as a practice in daily life, and in its application in clinical psychology and medicine. In 1979 Jon Kabat-Zinn was the first to bring mindfulness into the arena of medicine and consequently into the awareness of the public. He created the Mindfulness Based Stress Reduction (MBSR) programme to help people who suffer from chronic disease to manage their stress and pain levels and thus increase the quality of their lives. He developed MBSR by adapting buddhist meditation practices. His approach was so successful that it sparked the application of mindfulness ideas and practices for the treatment of a variety of conditions, such as addictions, eating disorders, self harming, depression and anxiety as well as stress-induced illnesses like migraines, chronic pain and insomnia.

Mindfulness in a nutshell:
If you have a tendency to forget where you put things, or burn your toast, or have to go back to your door to see if you locked it, YOU ARE NOT MINDFUL!

There are two aspects to mindfulness.

1) The first aspect is that of focusing awareness to what IS in the HERE and NOW. This can range from observing the environment we are in, to our body and its sensations, our thoughts, behaviours and feelings.

2) The second aspect is that of adopting a particular attitude toward our experiences in the present moment. This attitude is characterised by curiosity, openness, acceptance and kindness. It is the attitude of a loving observer who appreciates what is without the need to change anything.

Mindfulness is very simple - BUT it is not so easy to practice!
Learning in a group from an experienced teacher can help. Being in the company of like-minded people gives you the context in which understanding and implementing mindfulness becomes much easier. That's why I offer Mindfulness courses.
For more information go here.

Mindfulness courses
I am a certified Mindfulness teacher trained by Jack Kornfield and Tara Brach. I have practised Mindfulness for almost 30 years and facilitated group learning since 2010.

I also offer courses in Mindfulness for organisations. Please get in touch, if you are interested in that. You can call me on 07801413442 or email me!


If you are looking for ways to improve

your mood
your outlook on life
your sense of resilience
your wellbeing

- think MINDFULNESS! Research has shown that Mindfulness can reduce anxiety dramatically, lifts your mood and helps you to reduce the levels of negative rumination and worrying thoughts.

Mindfulness is a way of being and a powerful tool to retrain your brain. Of course there are a lot of ways of learning to be mindful: books, apps and courses. So, why should you come and join a course instead of using an app or reading a book? Mindfulness done right is an embodied experience. Here are the benefits of learning mindfulness from an experienced mindfulness teacher:

- I will role model being mindful for you
- you can ask me as many questions as you like and get feedback on your practise
- you are with others who also explore what mindfulness means to them (that's always a rich source of learning)
- you will get a lot more than just guided meditations. We will look at the potential problems arising, the brain science of mindfulness and how to best support yourself.

Find out what people think about the course here.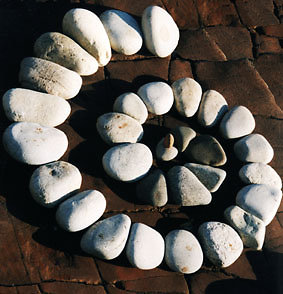 Case Study
When Richard came to my Mindfulness course he told me that he had suffered from anxiety for 22 years. His anxiety peaked a year ago when he lost his job. Since then he had been unable to return to work. He had shared that one of his strategies to calm his anxiety was to always achieve the best and be very critical of himself. This is a very common strategy, which unfortunately often causes even more anxiety, especially if it is paired with perfectionism. His GP recommended he should try Mindfulness. When Richard arrived at the first session, he was very anxious. Fortunately the group was extremely small. It meant that he was able to explore his specific issues in relation to Mindfulness in some detail. Over the weeks of the course you could see Richard transforming. The more he understood what Mindfulness was and the more he practiced it, the more he seemed to become himself: bright, caring and full of life.

Here is what Richard says about the course in his own words: " It was one of the best decisions I have ever made. Britta introduced me to Mindfulness over a 6 week course. The course involves a series of exercises which are reinforced with audio files and handouts to allow you to try them at home. These exercises provide you with essential life skills to cope with increasing pressures of work and society. Britta has been a fantastic mentor who is kind, calming, patient and accommodating. Thanks to Britta and Mindfulness I am now getting my life back and returning to work in the new year. I would recommend this course to anyone who suffers from stress or anxiety. " (Richard, December 2018)
Feedback
This is what people say, who have done a mindfulness course with me:

Really enjoyed my 6 weeks learning how to practice + enjoy mindfulness. (Linda, Stirling July 2023)

I liked how I learned to be more kind to myself and take time to enjoy my surroundings. This has helped not just myself but also my immediate family. (Claire, July 2023)

This course has helped me to consider things in a different way, and given the tools to make positive changes. (R.S. July 2023)

I found this course very helpful, because it made me analyse and step away from problems in my life & helped me to understand & cope with them better, i.e. the ageing process. (Ann Shaw, April 2022)

I found Britta an engaging teacher who was good at interacting with the class and used feedback well to explain mindfulness in the context of everyday practice. (anon., April 2022)

Britta has a supportive, thoughtful and sensitive approach to coaching mindfulness. (anon., April 2022)

Britta was wonderful - she has helped me learn a lot about mindfulness, and I am looking forward to applying what I have learnt in my day-to-day life. (Isabelle Grant, March 2021)

Wonderful course with a great, caring and informative pace. Very helpful lessons that will help me be happier. (Michael Lee, October 2019)

I would highly recommend this mindfulness course. Britta is a great teacher and explained everything in great detail. (Sarah Gibson, October 2019)

I have never done mindfulness before, and was initially sceptic about whether and how much it would help me. I found this course very useful. Under Britta's guidance I have found myself better able to spot behaviours I wanted to correct and apply a mindful approach to improving them. (AT, Stirling, October 2019)

Thank you for a useful and informative course. (RS, Stirling, October 2019)

A gentle, safe space, interesting discussions and 'light bulb' moments, many thanks. (anon, October 2019)

It was very wothwhile to attend again - to refresh and build on my mindfulness. Feeling more alive, being in the here and now. Thank you. (anon., October 2019)

I just want to say a huge thank you for everything you have done for me over the last couple of months. The exercises you have taught me have been invaluable. Mindfulness is fantastic therapy and you have been a terrific mentor. (Richard, December 2018)

Britta shows empathy and understanding as she gently guides the group through the Mindfulness exercises with a quiet authority. It felt safe to comment and ask questions. Mindfulness is suitable for all ages. Britta's course has enriched my life and with practice can bring some calm and understanding into our busy lives and minds. The handouts and emailed exercises are excellent for future reference and practice. I highly recommend Britta's Mindfulness course. (Pam, December 2018)

Excellent course full of insight with plenty of transferable techniques! (M. Bunnell, Falkirk, October 2018)

Very good mindfulness course - so much better than just following available mindfulness apps. (Jane C., Dunblane, October 2018)

Britta is a fantastic teacher on mindfulness. It is a practice that I will definitely continue in my life and share with others. Thank you. (Paula, April 2018)

Very inspiring! (Kimberley Sharp, April 2018)

This was really beneficial and enjoyable. I would totally recommend for anyone interested in Mindfulness. (anon., April 2018)

Practical tools to make you slow down and live more. (A.C., March 18)

Gave me a lot to work on and benefits from. Loads of new ideas. (I.B. Alva., March 18)

I now have a better appreciation of just being me. (Y.M., Stirling, March 18)

The whole world needs to be mindful and it would be a better place. (anon., March 18)

A very worthwhile course, it's made me pause, reflect and appreciate more in my life. (anon., March 18)

I found the first lesson a bit sceptical and thought this is not for me, but kept an open mind. I can honestly say I found the course to be very worthwhile." (anon., March 18)

I was not familiar with mindfulness before this course, but I feel I would like to use it in my everyday life style now. (anon., March 18)

I've really enjoyed the six week course. Britta is so lovely and patient. Looking forward to keeping practicing mindfulness and my life improves. (L. Mac, Falkirk, February 2018)

Britta is lovely and gives great insight into what mindfulness can do for you. Thoroughly enjoyed the course. (Tracy, February 2018)

The course reminded me of ways to bring mindfulness into my everyday life. (P.C., Stirling, February 2018)

Great course and amazing facilitation by Britta. this has helped me to relax and more focus in life. I plan to keep practicing. Thank you! (G.H. Stirling, November 17)

Important course to help us reconnect us with the small things in life that can bring us peace and pleasure. (Res, Stirling, November 2017)

Really enjoyed the course. A lovely friendly environment. (A.S., Stirling, November 2017)

Has equipped me with tools to better manage stress, self care + to "just be" and be more accepting. (Natalie McLurg, November 17)

A very well structured and balanced course, providing an excellent range of tools, both for now and use in the future. Britta is a very skilled practitioner in her art. (Ann Marie, November 2017)

This course is very different to anything that I have done before. I have learned a lot about myself + feel much calmer. (Gillian Taylor, Stirling, November 2017)

Britta is a natural and compassionate teacher: able to coach, inspire & motivate making it so much easier to build the practice of mindfulness into daily life. (Stirling, anon, November 2017)

Learned things I didn't know I needed/wanted from this course at the outset. (anon., November 2017)

It was a welcome oasis of calm. I think I will be able to get back to it when I need to. (anon, November 2017)

I feel better equipped for life now. THANK YOU (L.F.. Stirling, November 2017)

Wonderful - life changing experience. Thank you! (anon., November 2017)

Good pace & focus on mindfulness. (C.L., November 2017)

I enjoyed the mindfulness course, it has helped me in my day to day life and would recommend it ti anyone who would like to deal with stress and anxiety. (anon, September 17)

The course helped me to slow down, become more focused onthe present. It helped me cut off from my chronic pain which was amazing. (anon, September 17)

Good and informative course and small enough group to be able to get the most from it. As Britta has other qualifications, she is able to add more value to the sessions. (anon, September 17)

A very useful skill to develop in todays busy, demanding world. Taught in a very relaxing and supportive way. (anon, September 17)

Definitely worth a try, you will be pleasantly surprised. (D.G., Stirling, September 17)

The sessions with Britta have helped me so much. To live in the here and now and gain acceptance with my emotions. Highly recommend giving yourself a gift for life by attending Britta's sessions. (Jeff, Falkirk, May 2017)

An informative + supportive course. I learned how more sympathetic awareness of my own mind + behaviour can lead to a comfortable acceptance of myself. (Elizabeth, Stirling, 2017)

Excellent course with good value for money and most helpful. (Ravind Busgeeth, May 2017)

If you want to understand what mindfulness means then do this course. It has changed my outlook on myself and my life. (CFM, Stirling, May 2017)

Britta has helped me to work through my grief and anxiety since loosing my husband. Using mindfulness in my daily life has certainly started to help ease the pain. (Nicola Hodge, Stirling, May 2017)

I found this course to be most useful, informative and inspiring. Britta is a patient teacher and she explained all aspects very well. (H.B. Cumbernauld, May 2017)

This course has motivated me to pursue mindfulness. Britta's warmth and her expertise has opened me up to the possibility of working through my difficulties and of embracing vulnerability as a strength, not as a weakness. (Steven Craig, May 2017)

If you are stressed, run down or feeling overwhelmed with life, this course is perfect for bringing the balance back to your life. (DM Logie, February 2017)

A great course to help you slow down, become more aware and ironically then achieve more. Good for managing stress. (K. Gardiner, February 2017)

Amazing course with amazing teacher. Made me aware about the world and myself; and made me to want to explore more. Audio files were really helpful and the way how they are done are really helpful. (Natalia P., February 2017)

This course is quite life changing. I am aware that I am at the beginning of a journey, but I am willing to embrace that and keep going. (K. Whyte, February 2017)

This was a fantastic course. I signed up for it due to issues with stress & anxiety levels. This course allowed me to recognise how my behaviour & thinking patterns were compounding the problem & gave me tools not only to deal with anxiety in the moment but also to reduce the problem going forward. In essence I can now be proactive rather than reactive. (J. Brown, February 2017)

I found the course to be very helpful, especially if yo practice the audio guides as they really change your way of thinking. (Una McCrae, February 2017)

This course is helpful at all stages of life. Enriches every day life. (Pam, February 2017)

Britta is a superb teacher, she delivered her mindfulness course in such an interesting and stimulating way; a wonderful introduction to how to begin to approach life in a mindful way. (anon., November 2016)

Very worthwhile and beneficial. Wish it was more than six weeks! (J. McCleary, November 2016)

Britta is an excellent facilitator - patient, kind - exudes calmness. (Jan, November 2016)

A wonderful course which was person-centred whilst delivering theory - just enough - and guides for practice. A calm space. (Alison, Stirling 2016)

Very helpful to consolidate being more mindful day to day. I wasn't sure if I needed a formal course, but I would highly recommend it. (anon., November 2016)

Great tools to use in everyday life. (anon., November 2016)

I would recommend to anyone. I feel much more in tune with myself and my priorities in life. (anon., November 2016)

Excellent introduction on the subject of mindfulness. (Rodger Lyall, September 2016)

The course is a must have, if you want to practice mindfulness. It will teach you the tools you need to succeed! (Lisa Heming, June 16)

A very well facilitated course, very helpful and supportive introduction to mindfulness and meditation. (A.H., Crieff, June 16)

This has been a terrific , practical and informative course where the 6 weeks have flown by. It has improved my wellbeing already and I must keep the good work going now that the course is over! I would recommend this course to people. (A.S.. Falkirk, June 16)

The course was very informative, Britta is the perfect guide for the start of this journey of mindfulness. (T. Smith, June 16)

Britta's mindfulness course provides a gentle and informative introduction to mindfulness. Britta enhances the learning with useful resources and creates a safe environment for personal developement. (P. Smy, June 16)


This course provided the best possible introductory environment to encourage me to choose to be more mindful and embark on a journey of experiencing and appreciating life in the present. (anon. April 16)

Very informative, practical course. Have certainly learned some valuable skills to take with me into life (anon. April 16)

A gentle paced insight into the philosophy and techniques of mindfulness and the positive impact it can make on my daily being. (D. Bell, April 16)

Thank you Britta for a really interesting course. It was useful on so many levels and I can see myself incorporating many of these techniques into my life. (anon., Jan 16)

The course has been informative, with practical skills to develop a mindfulness approach to life. (anon, Jan 16)

Mindfulness with Britta taught me how to relax and even had me sleep soundly for the first time in months when I was struggling with anxiety. I'm looking forwards to putting what I've learnt into practice for life and strengthening my awareness as I go. (Emma, Stirling, Nov. 15)

A worthwhile course to make you evaluate daily expectations and how cruel we can be to ourselves. Very good! (November 15)

I am so pleased that I did the mindfulness course with you. I think that I have had an excellent return on the investment! (anon., November 15)

This course has been interesting and informative. I look forward to taking Mindfulness further in my daily life. I would highly recommend it. (D. More, November 15)

An excellent introduction to mindfulness with a good balance of theory, understanding and practical sessions. (September 15)

I really needed to get off life's treadmill and invest in myself a bit more. Britta's course has allowed me to do that and what I've learned will help me keep up the good practice. (Di, Stirling, September 15)

Excellent course: Very relaxed and informal. Lovely people. Learned a lot without always realising it! (P. Burton, September 15)

Britta's course led me to a deeper understanding and appreciation of the practice of mindfulness and of how to integrate this into everyday activities. (Linda, Stirling June 15)

Highly enjoyable and informative course, would definitely recommend this to others. Great teacher - very warm and welcoming and puts the group at ease. (John, Stirling June 15)

It has been very useful, and during the course I could see the benefits and the small changes on my life. Very happy that I decided to join it and will truly recommend it. (June 15)

Britta is a fantastic teacher. Knowledgeable, personable and thoughtful. Also really positive, supportive and engaging. (Oonagh, March 15)

A very worth while course. (March 15)

Very good course. Enjoyable and informative. (Fiona Frew, March 15)

Do you like the sound of this and want to join my next course? For more information or to book your place go What is mindfulness?